CAMFoam™ Standard Plug Sizes
Custom plugs available upon request
MANDREL ORDERING INSTRUCTIONS
Our plugs come with the standard mandrels listed below.
To order a different mandrel configuration, please follow these instructions:
add "-SM" to item for small mandrel
add "-OT" to item for stubby mandrel
add "-1″ to item to add a 1" thru hole to our standard mandrel
New orders receive free mandrel retrofit.
To save a copy of this information to your computer, please click here.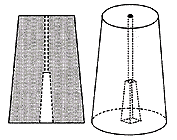 BK PLUGS
standard mandrel
ITEM:
BK1-12
BK2-14
BK1
BK2
HEIGHT
12"
14"
15"
18"
TOP DIA.
5.1"
6"
4.5"
4.5"
BOT. DIA.
8"
10.25"
8"
10.25"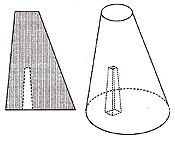 KNEE/SYMES PLUGS
standard mandrel
ITEM:
K1
K2
K3
SYME1
HEIGHT
20"
20"
22.5"
24"
TOP DIA.
6"
7.5"
9"
6"
BOTTOM DIA.
8"
10"
13"
8.25"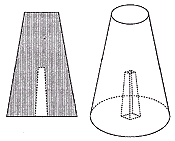 AK PLUGS
standard mandrel
ITEM:
CM1
CM2-18
CM2
CM2-E
HEIGHT
16.6"
18"
22.5"
24"
TOP DIA.
7"
8"
8"
8"
BOT. DIA.
11.5"
13"
13"
13"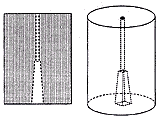 SPINAL PLUGS
mandrel with 1" thru hole
ITEM:
T1
T2
T2T
T3
T3H*
T4
HEIGHT
20"
23"
28"
28"
28"
30.5"
AP TOP
9"
12"
12"
14"
16.5"
22.5"
AP BOT.
10"
13"
13"
15"
17.5"
22.5"
ML TOP
12"
16"
16"
19"
19"
22.5"
ML BOT.
13"
17"
17"
20"
20"
22.5"
* T3H - Choose for Pendulous Abdomen
CRANIAL PLUGS
small mandrel
ITEM:
CT8
CT10
HEIGHT
8"
10"
TOP DIAMETER
8"
10"
BOT. DIAMETER
8"
10"
AFO PLUGS
standard mandrel
ITEM:
AFO1
AFO2
HEIGHT
30"
36"
TOP DIAMETER
6.5"
7"
BOT. DIAMETER
8.25"
9"
Why use CAMFoam™?
Why should you begin using CAMFoam™ ?
Uniform cell structure
Anti-static formulation
Does not compress under vacuum
New sizes to minimize material cost
More versatile configurations
Works with all carvers
Easier to receive discounts
No minimum order
Custom sizes and shapes available
What does this mean to you?
Less mold preparation
Cleaner handling
Saves money
What other ways can I simplify fabrication?
Complete mandreling system
Various workbench mandrels
Vacuum mandrels and fixtures
Can retrofit your Endolite mandrels
Forming stockinettes and sleeves
Socket extraction tool
Part A and B raw materials
Mixing accesories
If you are buying your foam blanks for less money, let us know and we will beat the price. Period!
If you don't see it, ask us. We probably have it. And if we don't, we will make it.
CAMFoam™
Find out why everyone is switching to CAMFoam!
New Sizes!
Easier to Receive Discounts!
Fits ALL Carvers!
More Versatile Configurations!
Best Foam Available!
CAMFoam™ is one of the newest technologies developed by BioSculptor® to enhance and simplify your production. We guarantee uniform, fine cell structure that makes carving fast and smooth, requiring less mold preparation. At our in-house plant, we use a proprietary process and a unique formula to produce the highest quality foam blanks available at the lowest price. By manufacturing CAMFoam™ blanks on-site, we are able to pass the savings on to you.
We carry an extensive variety of common shapes, and can provide custom shapes and molds to your specifications. We offer blanks with two fixturing options, these options satisfy all carvers in the industry. Even if you are not using CAD/CAM, you can still benefit from CAMFoam™. We can also provide you with the raw material and mixing accessories, enabling you to produce light weight, positive models from negative plaster casts. Our ability to mass produce and deliver quickly without compromising quality, enables us to consistently provide the highest quality, lowest priced foam available. We offer volume discounts.
CAMFoam™ can also outfit your facility with almost anything. We can provide you with work mandrels for secondary modifications. We also carry vacuum forming fixturing for orthotic fabrication, stockinettes and latex sleeves for prosthetic fabrication, and also plug extracting tools. If you need something specific, contact us, if we don't carry it, we'll get it for you.
We will retrofit your current mill FREE of charge, so you can start working with CAMFoam™, the finest, lowest-cost foam available today.
Call us at (800) 327-5830 for more information today.